NETCOM5 XP is an intelligent addressable emergency lighting testing solution.  It allows an installation to be supervised, tested, and monitored from a central location. Ventilux offers a wide range of products compatible with N5XP Testing System.
N5XP is a smart testing system requiring ZERO physical maintenance. It negates the necessity for a maintenance engineer to physically/visually check all emergency luminaires on a regular basis as is currently required under EN50172 legislation. 
The Netcom5XP system is made up of the following components and operates on a Master-Slave protocol. The Control Panel is the Master which controls, monitors and reports on the complete emergency lighting installation. The Control Modules are secondary masters linked to the central Control Panel via Ethernet Hubs and provide an Ethernet/CAN gateway to the Nodes.
Modular design allows both small and large installations to be competitively specified. N5XP installation is considerable cost saving against the ever-growing maintenance costs.
N5XP Reports Luminaire Diagnostics for
An Ethernet backbone provides greater flexibility for increased distances in the system design and layout.
CAD package floor plan integration.
Alarm setting and reporting to key personnel.
Remote access and monitoring is now easier via mobile phone, tablet or PC – less disruption to working environment.
Mutli-user access via the internet and intranet.
Testing can be programmed for non-working hours hence less disruption to work environment.
Control Panel provides the end user with increased control and visibility.
Allows both CBU and Self-contained luminaires on the one system.
Can be integrated into nearly all mains and emergency luminaires not just Ventilux luminaires.
Global support from a Dublin based design centre.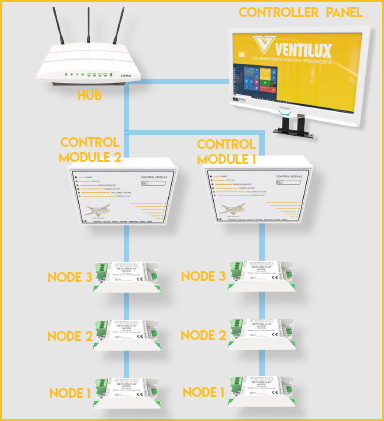 Netcom5XP System Characteristics
Max number of Control Modules
Max luminaires per control module
Max luminaires per Netcom5XP system
Max cable distance from last luminaire to control module
Max cable distance from control module to central hub