Self-Contained (Single Point) is a type of emergency lighting system that contains its own power supply, in the form of a battery. Ventilux offers a wide range of luminaires with Self Contained System.
For Self-Contained (Single Point) & Central Battery Systems Emergency Lighting Luminaires. In order to comply with EN50172 an emergency lighting installation must be tested periodically by simulating failure of the normal supply. A facility to simulate this failure must be provided. Under IS 3217 this facility must not interrupt the normal or switched supply to the area concerned, i.e. only the permanent supply may be interrupted and the test facility must automatically restore this supply at the end of a specified test period. The Ventilux Central Test Unit allows the supply to be interrupted and then restored automatically, and so enhances system reliability.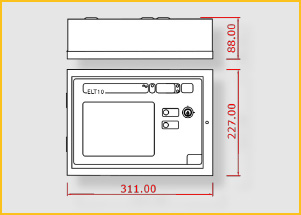 Self Contained - ELT Central Test Unit
Easy Testing & Indication
Automatic restoration of supply on completion of the test.
On/Off key-switch to prevent unauthorised use.
Power-On Indication.
Accurate crystal controlled timer/Digital display of elapsed time.
Test periods of 40min/3 hours. (Other periods on request).
Test in progress indication & Test completed indication.
Audible warning on start of test and final 10 minutes of test.
10A multi-pole contactors.
Multi-zone versions are available with individual zone select timings.
220V/240V 50/60Hz, 20VA (other voltages available).
Emergency Lighting Tester (ELT) Specification
No. of Contractor Connections
Rear 20mm Conduit Entries
0° C TO +30° C, upto 80% Relative Humidity
Interface Unit (IFU) Specification
No. of Contractor Connections
2X 20mm Conduit Entries On Top and Rear Surfaces
0° C TO +30° C, upto 80% Relative Humidity